Membership
Membership is core for the successful running of our Association. Together with the ITFA Regional Committees, we strive to attract new members to join the Association. Whilst we are excited to keep seeing our Association grow, ITFA believes that fresh ideas are brought along by new joiners, as well as new business opportunities for its existing members.
With close to 300 active members in the following industries: Banking & Finance, Insurance & Insurance Brokerage, Fintech, and Legal, ITFA has become a unique platform for industry professionals to network, share knowledge, best practices and exchange business interactions.
Becoming a member provides access to various benefits:
Education Courses;
Access to the members directory;
Conciliation and Arbitration;
Regional Events;
Members Communications;
Access to the Members Only area available on ITFA's website, which includes a variety of resources and professional opinions;
Discounts to the ITFA Annual Conference;
Various other discounts on events as advertised throughout the year;
Find out more by clicking here. The Membership Application Form can be downloaded here.
For any queries related to membership please send us an email on info@itfa.org
Chair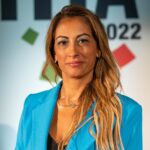 Lorna Pillow
of London Forfaiting Company Ltd
Head of Communication and Membership