ITFA Insurance Committee Seminar and ITFA Awards Ceremony, Montrouge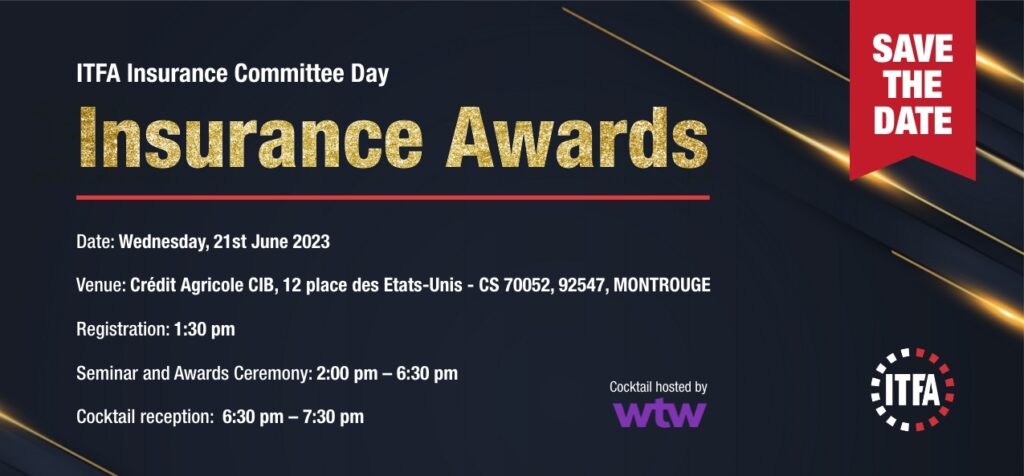 The ITFA Board wishes to inform you that the Insurance Committee will, for the second year running and following last year's success be organizing the Insurance Committee Seminar including the ITFA Insurance Awards.
The event which will be open to ITFA members only with a maximum of 4 registrations per member institution, will be held at the premises of Crédit Agricole CIB, 12 place des Etats-Unis – CS 70052, 92547, Montrouge, France, on Wednesday 21st June 2023. The event registration will start at 1:30pm with the educational seminar kicking off at 2:00pm, followed by the Award ceremony. A cocktail reception, hosted by WTW from 6.30pm onwards, will close the event.
The seminar is expected to feature 5 panel discussions, which amongst other things will share insights on Regulatory Updates, Claims, InsurTech, Documentation Update and ESG.
Further details regarding registration, who can vote and how to vote, the different award categories, together with the detailed agenda, will follow in due course. In the meantime, we urge you all to SAVE THE DATE.