Board Member
Silja Calac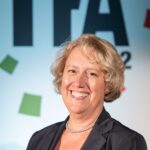 silja.calac@gruposantander.com
Silja Calac was born in Switzerland and studied in Paris, where she obtained a Maîtrise d'Ingénerie en Commerce International (Masters Degree in International Trade) at ILECI (Institute of International Economics and Commerce). She acquired her first taste of Forfaiting & Trade Finance when joining the secondary market distribution team of BDEI-Credit Lyonnais, Paris as a junior trader in 1996.
Before taking over the responsibility for UniCredit Group Center of Competence for Trade Risk Management, Forfaiting Financial Institutions and Secondary Market in 2007, Silja worked for various international Financial Institutions in several continents: among others, she assisted in the establishment of a new Forfaiting Department within HypoVereinsbank, Singapore Branch.
Silja Calac was part of the ICC Consultative Committee for the drafting of the URF and has been chairing the German Regional Committee of the ITFA from 2010 to 2012.