Board Member
Silja Calac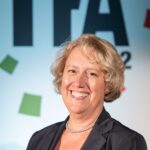 silja.calac@gruposantander.com
Silja Calac was born in Switzerland and studied in Paris, where she obtained a Masters Degree in International Trade. She acquired her first taste of Forfaiting at BDEI-Credit Lyonnais, Paris as a junior secondary market trader in 1996.
Before taking over the responsibility as Global Head for Trade Risk Management, Forfaiting and Secondary Market at UniCredit in Munich in 2007, Silja worked in Singapore where she assisted in the establishment of a Forfaiting Department within HVB.
In 2015, Silja joined Swiss Re as Senior Underwrite based in Frankfurt, where she has the responsibility to further expand the Surety offer for banks.
Presently, Silja is heading the private debt mobilisation team for global transaction banking (GTB) for Banco Santander in Continental Europe. She started this position in 2020 which is located in Banco Santander's Frankfurt branch.
Silja is a Board Member of ITFA, Head of the Insurance. She chaired the German Regional Committee of ITFA from 2010 to 2012. She was also member of the ICC Consultative Commission for the Drafting of the URF and Chairperson of the ICC URF task force until 2014.