Board Member
Sachin Anandikar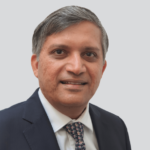 sachin.anandikar@pembertonam.com
Managing Director, Working Capital Finance
Sachin Anandikar joined Pemberton in 2021 as a Managing Director for Working Capital Finance, where he is responsible for platform relationships and our WCF business infrastructure. He
brings over 20 years' experience in financial services at Greensill Capital, HSBC, Citi and Morgan Stanley. Sachin has led large teams in various verticals including product, innovation, risk and technology functions and has extensive experience in a wide range of products including receivables finance, securitisations, credit cards and consumer loans. Sachin was responsible for launching a new mezzanine securitization product and helped create distribution desk for HSBC's Global Trade and Receivables Finance business in Singapore, Hong Kong, London and New York.
Sachin is an engineer and holds an MS in Computer Science from Illinois State University, US and an MBA in Finance and Entrepreneurship from the Kellogg School of Management at Northwestern University in Chicago.