Board Member
Johanna Wissing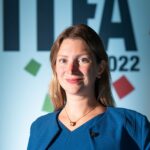 johanna.wissing@credit-suisse.com
Jo is an experienced banking professional with an established record of accomplishment in relationship management, trade finance origination, syndication, and distribution across numerous geographies and sectors. She has proven her leadership in deal structuring, risk mitigation, pricing, capital management, credit analysis, and legal documentation.
Jo joined the ITFA Board in January 2021 which led to the creation of a dedicated ESG function at board level. Next to advancing ESG in trade Jo is very passionate about innovation, and has been one of the founding members of the fintech committee during her time setting up and co-founding the European presence of a major US headquartered fintech start-up. Having spent most of her career to date in London with Barclays, LiquidX and Lloyds Jo spent nearly two years in Singapore looking after FI & NBFI trade for Asia Pacific for Lloyds Bank. Following that she took the exciting opportunity to join the trade syndication team at Credit Suisse Schweiz AG two years ago and is since based in Zurich.
Jo holds an MSc in Management from Warwick Business School and a BA in Political Science from Eberhard-Karls-Universitaet Tuebingen. A native of Germany she has to date lived in seven different countries and is always curious exploring new places.