Board Member
Johanna Wissing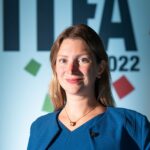 johanna.wissing@credit-suisse.com
Jo is an experienced corporate banker with particular expertise in the fields of trade & export finance, syndication, portfolio management and banks and non-banks FI relationship management. Having started her career in the financial institutions department while on the graduate programme at Barclays in London. She has since worked in various trade and lending roles on both the syndication as well as the origination side.
She is strongly interested in technology developments and in seeing trade finance transforming as digitisation moves on. Hence, she bravely swapped the world of banking for a tech start-up for a while and has got first hand fintech experience from having co-founded the European office of LiquidX, a leading trade & working capital finance platform before joining Lloyds Bank in London. Having spent most of her career to date in London Jo spent nearly two years in Singapore looking after FI & NBFI trade for Asia Pacific for Lloyds Bank. Following that she took the exciting opportunity to join the trade syndication team at Credit Suisse and is now based in Zurich.
Jo has long been close to ITFA as one of the founding members of the emerging leaders network and the fintech committee and is really excited about her first term as a board member.
Jo holds an MSc in Management from Warwick Business School and a BA in Political Science from Eberhard-Karls-Universitaet Tuebingen. A native of Germany she has to date lived in seven different countries and is always curious exploring new places.