Board Member
Beatrice Boldini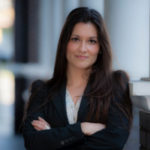 Beatrice has worked as Business Development Director at GTR, the world's leading news source and event organiser for the global trade, for the last 8 years and is a proud and active member of the ITFA Emerging Leaders Committee since early 2018.
The market-leading magazine Global Trade Review (GTR) provides essential news and analysis for corporates, bankers, lawyers, insurers and more working in these sectors. The GTR conferences, content, and networking events offer unrivalled insight into these financial markets, with focused panel discussions, high-quality presentations and a host of well-researched news and data-led publications available for the industry.
At ITFA, the respected and well-organised Emerging Leaders Committee seeks to increase the proportion of Emerging Leaders in Trade Finance, thereby contributing to the industry's sustainability in the future. With its vast range of educational events, the Committee aims to increase the level of specialist knowledge made available to young professionals as well as new entries in the Trade Finance space, fostering the transfer of knowledge between generations.