Board Member
Azi Larsen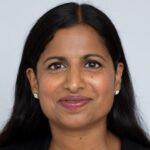 Azi is the Lenders Solutions Group Leader for the US & Canada at Marsh Specialty, a dedicated practice of global experts specializing in the structuring, syndication, and placement of regulatory compliant political and credit risk transfer solutions for lenders.
Azi has over 18 years of international experience in negotiating and executing bespoke credit and political risk (re)insurance programs for international banks, funds and asset managers, multinationals and public agencies. She started her career at Export Development Canada as a Trade Credit Underwriter supporting French Canadian exporters. She then joined a leading broking firm in 2006 in the UK where she developed the design and delivery of political risk and credit (re)insurance solutions to help clients successfully mitigate country and counterparty risk primarily in emerging markets across a variety of asset classes, including trade finance.
In 2014, Azi relocated from London to Copenhagen to head up a Nordic specialist unit for Political Risk, Credit and Terrorism where she worked with Nordic banks and multinationals with a particular focus on the renewable energy sector. She joined Marsh Specialty in 2018 to head up the Lenders Solutions Group in Continental Europe where she specialized in innovative solutions to help grow the usage of credit insurance amongst non-bank financial institutions.
Azi has a M.Sc. in International Relations from the London School of Economics and B.A in Economics from the University of Waterloo (Canada). She is now based in Toronto and speaks fluent English and French with a working knowledge of Spanish and Danish.