Board Member
André Casterman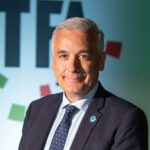 André Casterman is a Fintech consultant, advising clients on payments, trade finance, and capital markets. André spent 20+ years at SWIFT, leading various technology innovations in inter-bank payments, corporate payments, corporate treasury, and trade finance. During that time, he established an institutional partnership between SWIFT and the International Chamber of Commerce (ICC) and created the first digital trade settlement instrument.
André chairs the Fintech Committee of the International Trade and Forfaiting Association (ITFA) with a focus on helping banks establish trade finance as an investable asset class through use of data and artificial intelligence technologies.
André was elected to the ITFA Board in September 2018 at the ITFA AGM in Cape Town. Andre is responsible for all ITFA Fintech activities.