Board Member
Pouya Jafari – Committee Chairperson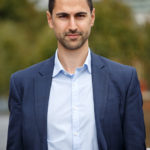 Pouya Jafari is Vice President in Trade Innovation at Sumitomo Mitsui Banking Corporation (SMBC) in London. In his role, he is responsible for developing and implementing innovative trade products for the bank and its customers.
Pouya is also Chairperson of the International Trade & Forfaiting Association's (ITFA) Emerging Leaders Committee, which represents the interests of early-stage and aspiring professionals in the trade finance industry.
In 2019, Pouya created tradeXplain.com, an educational trade finance website aimed at those who wish to better understand the fundamentals of the industry.
Previously, Pouya worked at Channel Capital Advisors and Wells Fargo. He began his career in a graduate leadership programme with American International Group (AIG).
Pouya studied International Relations at The University of Edinburgh.
In addition to his passion for global trade and how it is financed, Pouya has a deep interest in political philosophy and practical ethics. He is also a former competitive table tennis player and has played the piano for as long as he can remember.