Board Member
Pouya Jafari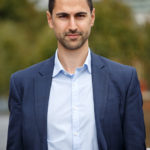 Pouya Jafari is Vice President in Trade Innovation at Sumitomo Mitsui Banking Corporation (SMBC) in London. In his role, he is responsible for exploring, developing and implementing the digitalisation of the bank's trade finance business in Europe, the Middle East, and Africa.
Pouya is the Deputy Chairperson of the ITFA Emerging Leaders Committee and Founder of tradeXplain.com, an educational trade finance website.
He previously worked at Channel Capital Advisors, an alternative credit asset manager. In this role, he was responsible for the origination, structuring, and investment analysis of opportunities for the company's trade and commodity finance funds. Prior to this, he worked as Credit Analyst at Wells Fargo, primarily focusing on inventory finance transactions. Pouya began his career in a graduate leadership programme with American International Group (AIG).
Pouya studied International Relations at The University of Edinburgh.