Board Member
Paul Monigatti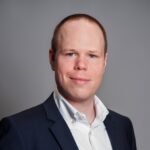 Paul Monigatti is currently Vice President in the department Platform Business & Digital Innovation at AKA.
In this role, he is responsible for the development of all relevant ESG requirements and opportunities.
This means on the one hand to always keeping a close eye on regulatory and market trends to find opportunities in the context of ESG and Export & Trade Finance. On the other hand he has been diving into the details of taxonomies and classification metrics together with the credit risk department to develop an internal ESG screening methodology.
Paul has started his banking career at AKA in Export & Agency Finance in 2016. He gained deep experience in structuring of Export Finance transactions, working together with multiple Europen Export Credit Agencies.
Next to ESG and Sustainable Finance, Paul is passionate about challenging the status quo in the banking industry, with a focus on Export & Trade Finance. Paul holds a MSc in Business Engineering from TU Darmstadt and is located with AKA in Frankfurt, Germany.