Board Member
James Collins – Market Practice Committee Member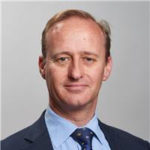 Head of Distribution and Trade Finance origination
United Bank for Africa (UK) Limited
As part of the Business Development Team, James Collins is responsible for building UBA UK's Trade Finance distribution and origination function.
Immediately prior to joining UBA UK, James was Global Head of Documentation within the Portfolio Management and Distribution Team at HSBC with responsibility for coordinating and overseeing the negotiation and preparation of distribution and participation documentation at a global level for the PMD function within HSBC's GTRF business.
Before joining HSBC, James spent 11 years as Senior Manager, Trade Finance at Bank of Ireland Global Markets in London, where he was involved in leading Trade Finance Compliance, FI Relationship Management on both the origination and distribution sides as well as negotiation of secondary and primary market documentation.
James also worked in Trade Finance at Europe Arab Bank (formerly Arab Bank plc) in London.
Following 3 years on the Barclays Bank PLC retail bank graduate scheme, James started his career in Trade Finance with London Forfaiting Company PLC in 1995 within the Germany and Eastern Europe team.
James has a BA (Hons) degree in Russian Studies from the University of Sheffield and has served on the ITFA Market Practice Committee for 4 years.